Reinke Variable Rate Irrigation (VRI)
The Only VRI System with a Prescription (Rx) you can SEE at the Panel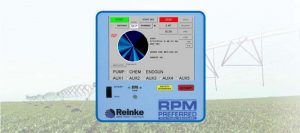 Reinke was the "First" to successfully introduce GPS technology into the control and management of centerpivot irrigation systems in 2002. Reinke was also the "First" to introduce touch screen technology to the pivotirrigation industry in 2009. Now Reinke is the "First" in the industry to integrate variable rate irrigation (VRI)with Touch Screen control and 'end-of-system' GPS. If you already have a Reinke Touch Screen control paneland Navigator GPS, you can get started using VRI without any additional components.
Optimize Water Distribution—Maximize Every Plant's Potential
Whether for a variety of crops in the same field, rolling terrain, difficult soils, drainage issues, or changes in climate, Reinke VRI gives you the ability to apply precise amounts of water to meet every plant's need.
Reinke VRI can improve crop yield over the entire field, minimize runoff and deep percolation, and increase the efficiency of applied chemicals all while conserving our most precious natural resource, water!
Reinke also provides the capability of using multiple irrigation prescriptions for each field that can be easily changed so you can adjust to changing water needs throughout the season.
Bottom line, there's never been a better way to efficiently apply water and maximize every plant's potential!
Features of the Reinke VRI System
View Full-color display of the VRI Prescription (Rx) on the RPM Touch Screen control panel
System Position is indicated within the Rx During Operation
Upload and Store Several Rxs on the RPM Touch Screen control panel via USB flash drive
Two Separate Rxs can Run at the Same time – 1 for Forward and 1 for Reverse
Easily Validate Prescription is Running as Programmed
Unprecedented Accuracy of System Location and Control with  Navigator GPS
VRI Precision to one tenth of a degree with Pivot systems
VRI Precision in one foot increments with Lateral systems
84 Zone capability allows creation of more than 300,000
Optimally Managed Irrigation Zones
"As Applied" Data is accurately logged and can be Graphed
Two Options for creating irrigation Prescriptions:

Use the Reinke VRI Prescription Program Software
Use third party precision data specialist's software

Fertigation Rxs can be created with the Reinke VRI Rx Program
Most any Reinke Touch Screen sold since 2009 can attain VRI with a painless firmware upgrade
Reinke VRI can be used on Most Any Pivot and Lateral Move Irrigation System
Center Pivot VRI Options
SPEED VRI Rx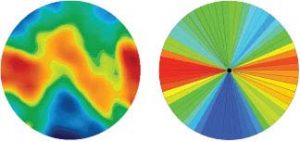 Speed VRI is economically accomplished by segmenting the pivot path into multiple pie-like slices (sectors).  Each unique irrigation depth is accomplished by altering the pivot speed at each slice. The Rx may concentrate on the outer 30% to 50% of the pivot circle, which accounts for 50% to 75% of the total area within each slice. Each slice can be accurately proportioned down to one tenth of a degree (3,600 increments), to provide maximum control of the water being applied.  Base Application depth can be easily adjusted higher or lowerwithout changing the Rx.
ZONE VRI Rx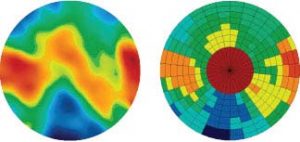 Zone VRI divides the pivot coverage area into two or more rings (zones) around the pivot point. Reinke VRI can control as many as 84 zones.  When combined with the segmenting sectors, an even higher level of precision is made possible by the creation of several to more than 300,000 independently managed zones within the field. Irrigation rates are achieved through individually controlled sprinkler banks, allowing an almost unlimited number of precision water application combinations.
Variable Frequency Drive Pumps may be required and are recommended to minimize pressure fluctuations from the changing rate of system flow resulting from turning a large number of sprinklers nearer the system end off at any one time.  Additional components are required for Zone    RI including independently controlledsprinkler valves, sprinkler control valve boxes and air compressor.